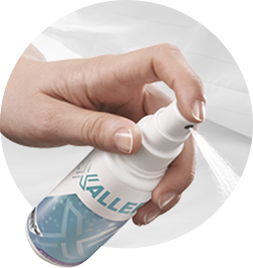 ExAller®: simple, effective dust mite elimination solution
ExAller® is a scientifically proven, effective solution that eliminates dust mites from mattresses, bedding, furniture, carpets and more. Experience relief from dust mite allergy symptoms after just one use.
REMOVES 99% OF DUST MITES IN 3 APPLICATIONS
CLINICALLY TESTED FOR EFFECTIVENESS
100% NATURAL AND SAFE FOR PEOPLE AND PETS
Three easy steps, proven results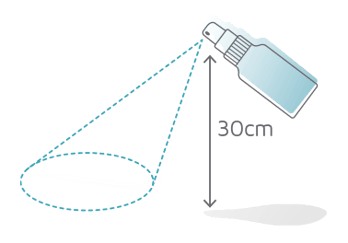 Spray the ExAller® solution evenly onto the surface of a 100%-cotton sheet, towel or textile covering the bed, bedding, pillow, carpet or upholstery. 1 spray bottle pump is recommended for every 30x30 centimetres.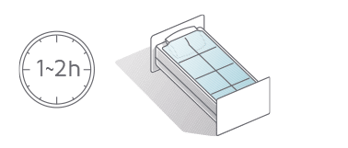 Leave the covering undisturbed for 1 to 2 hours.This is how long it takes for >80% of the dust mites in the treated area to migrate into the covering.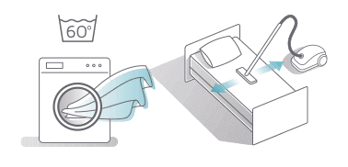 Remove the dust mite-filled covering and wash it in the washing machine at 60 degrees Celsius. Vacuum the treated area after the first 3 applications to remove residual dust mite faeces and body parts.

No dedicated textile needed
You don't have to use a special covering or textile. When treating your mattress (which usually contains the highest concentration of dust mites by far), simply use the sheet on which you slept the previous night.
Eliminate existing dust mites: Treat 1x / week for 3 weeks
Prevent future infestations: Treat 1x per month Learn how simple it is to use ExAller® in our video.
WATCH THE VIDEO
How it works
ExAller® mimics dust mite communication signals
The ExAller® method relies on evidence-based scientific understanding of dust mite biology and behaviour.
ExAller® contains natural, non-toxic, plant-derived ingredients that mimic the pheromones used by dust mites to communicate. As a result, mites are attracted to the product-sprayed covering and migrate from the interior of the bedding, carpet or upholstery. After they gather in the sprayed covering, they can be eliminated all at once by exposure to hot water in the washing machine.
Pricing
Available in the following formats:
75 mL bottle
19,95 € / 24,95 CHF*
Ideal for a child's bed
4 SINGLE BED TREATMENTS
4.99 €
Per Month
for long-term prevention (single bed)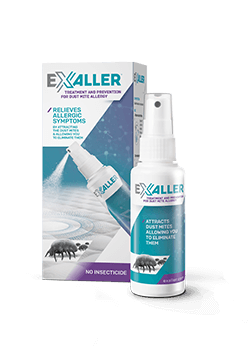 150 mL bottle
29,95 € / 39,95 CHF*
Ideal for couple's bed
4 DOUBLE BED TREATMENTS
7.49 €
Per Month
for long-term prevention (double bed)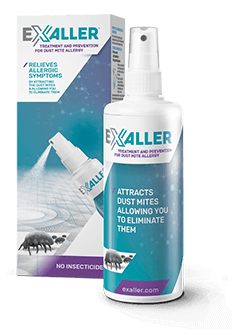 300 mL bottle
49,95 € / 59,95 CHF*
Ideal for a family or for those seeking the best value for price
16 SINGLE BED TREATMENTS
3.12 €
Per Month
for long-term prevention (single bed)
8 DOUBLE BED TREATMENTS
6.24 €
Per Month
for long-term prevention (double bed)
* Recommended European retail price in EUR and CHF. Contact us for pricing outside Europe.