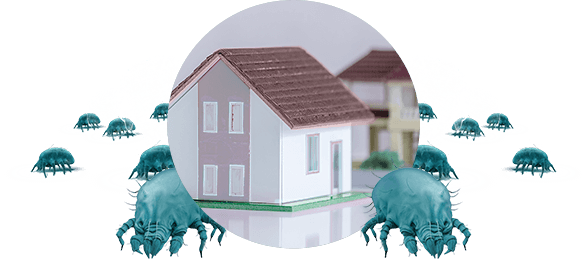 Dust mites are living all over your home
Dust mites — tiny arachnids that live in mattresses, furniture and carpets — are found almost everywhere in the world. Billions of their droppings and exoskeletons commonly collect in our homes and come in close contact with our skin, eyes and respiratory systems.
What are dust mites ?
Related to spiders and ticks, dust mites are 0.2 to 0.3 mm long and live in warm, dark humid environments, including bedding, mattresses, carpets, couches, stuffed animals, pillows and more. Mattresses are ideal homes for them, as dead human skin cells provide them with a renewing food source, and human sweat keeps the humidity at their preferred level. As our homes become better isolated less ventilated, the faster dust mites reproduce. One mattress can contain up to 2 million dust mites.
During the day, they gather together in the core of the mattress for protection and to avoid dehydration. At night, dust mites migrate to the surface of the mattress to feed, leaving their shells and faeces behind when they return to the inner layers at sunrise. A single dust mite produces 20 droppings per day.
Our bodies feed >1 million tiny arachnids every night
While they do not bite, are not related to bed bugs and are harmless to people, their droppings and shells significantly add to the weight of mattresses over time. They come in close contact with our bodies to feast every night: we bring large quantities of sweat and between .5 and 1.5 grams of shed skin cells daily for them to feed on — which emerge later as faeces. It's a fact that you are likely sleeping with your face in a pillow full of dust mites, their eggs and their excrement. Dust mite populations can explode from 1 to 1 million in weeks
WATCH THE VIDEO
Do not invite dust mites into your home
Preventing dust mites from gaining a foothold in your mattresses, bedding and carpets can be achieved using simple methods. Our leading allergist suggests following these tips to make your home an unpleasant place for dust mites to live:
keep air humidity in bedrooms below 50-60%, as measured by a hygrometer
ventilate bedrooms every day for at least 10 minutes, especially when it is cold and dry outside
replace mattresses more than 10 years old
remove textiles like carpets, stuffed animals, upholstery and carpet from bedrooms
store clothing in closed cupboards and seal unused clothes in plastic containers
Add the ExAller® anti-dust mite solution to your cleaning regime
The ExAller® anti-dust mite solution is a 100%-natural, simple way to eliminate dust mites from your indoor environment. Using plant-based ingredients in very small quantities, ExAller® mimics dust mite communication signals, allowing 99% of dust mites living in mattresses, furniture, carpets and more to be collected and eliminated in the washing machine.