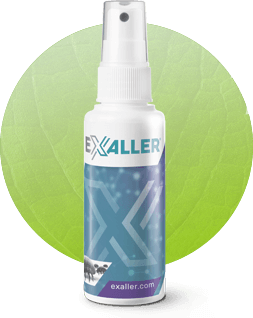 ExAller®: a 100%-safe and natural anti-dust mite solution
The ExAller® solution is based on natural, diluted plant-derived ingredients that attracts dust mites so that they can be easily collected and eliminated. It contains no insecticides, no chemicals and is completely safe for adults, children and pets.
A harm-free, natural way to remove dust mites from your home
ExAller® relies on natural plant extracts that mimic the natural pheromones used by dust mites to communicate and cluster together. This approach allows dust mites to be completely removed from mattresses, bedding, carpets and other furniture – eliminating the source of the allergens without killing the mites.
ExAller® is recognized as a truly innovative solution because of its totally new mode of action. This solution enables you to benefit from both effectiveness and safety (natural ingredients), with zero compromises.
Why is ExAller® natural and safe, while most other anti-dust mite sprays are not?
The purpose of other anti-dust mite sprays is to kill dust mites. In order to achieve that goal, they often contain toxic ingredients and harsh chemicals. They rely on insecticides, which are relatively inefficient as they only kill dust mites on the surface (dust mites hide in the deeper layers of mattresses and furniture), but they are also toxic, negatively impacting health and the environment.
Attracts - does not kill - dust mites
ExAller® does not kill dust mites. The goal is to attract them from the deeper layers of treated areas to cluster in a textile covering the surface. Once >80% have penetrated the cover, you can remove the covering and eliminate the dust mites in the washing machine at 60 degrees Celsius.
No toxic ingredients are required to attract dust mites. ExAller® contains plant extracts that mimic the pheromones used by dust mites to aggregate in certain areas. It's 100% natural and risk-free.
Tried and tested for safety
Although the ExAller® solution does not come in contact with the human body, it was tested in accordance with the standard ISO 10993-5 – Biological evaluation of medical devices, part 5. Various safety evaluations were performed by an independent laboratory, which concluded that ExAller® poses no risk of cytotoxicity, skin sensitisation or skin irritation. These results confirm that the ExAller® anti-dust mite solution is completely safe.
Among thousands of users, no cases of allergic reaction to the ExAller® solution have been documented. However, a professional evaluation is currently underway to scientifically demonstrate the non-allergenic nature of ExAller®.
Recommended by leading allergists and paediatricians
Completely safe to use around children as of 3 years old, ExAller® is trusted by medical professionals to provide allergy symptom relief and ultimate home hygiene without harsh ingredients. The active compounds in the ExAller® solution are only present in very small amounts and come with zero health risks. For additional information about the ExAller® anti-dust mite solution, download our product leaflet. Discover how ExAller® works in our video.
WATCH THE VIDEO