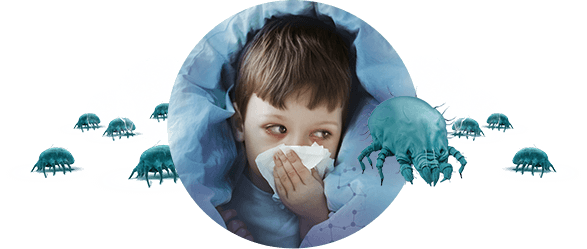 Is your child allergic to dust mites?
When a child suffers from dust mite allergy symptoms, it can have impacts on the entire family. As a parent, it's always concerning to hear your child complaining of discomfort, breathing problems, tiredness and trouble at school.
Allergy symptoms in children should be taken seriously
Does your child wake up tired, irritable, or with cold-like symptoms? They may be allergic to dust mites, just like 20 to 30% of the population worldwide.
Dust mite allergy causes more than a simple case of runny nose and itchy eyes for your child. Uncomfortable symptoms can lead to poor-quality sleep, impacting children's concentration at school and relationships with friends and family members.
Sensitivity can cause nighttime wheezing, trouble breathing and even severe asthma attacks. Studies have shown that exposure to dust mite allergens at an early age may lead to asthma later in childhood (Lodge et al.,vv Journal of Allergy and Clinical Immunology).
Learn more about the impacts of dust mite allergy in children.
Allergies can worsen over time
When allergies go untreated, symptoms like rhinitis can become more severe and even evolve into asthma. Chronic sleep problems, inflammation and fatigue resulting from untreated dust mite allergy can affect your long-term health and well-being.
Treat allergy by removing dust mites
from your child's environment
With a structured approach, you can give your child a healthy environment and a life free of dust mite allergy symptoms and their consequences. Follow these three steps for a home without dust mite allergens.
Eliminate the source of allergens
Medically treat the symptoms
Limit the presence of dust mites
ExAller® eliminates 99% of dust mites
The ExAller® anti-dust mite spray contains natural ingredients that mimic the pheromones used by dust mites to communicate. After ExAller® is sprayed onto a 100%-cotton covering, dust mites migrate from your child's bedding, mattress and stuffed toys and can be easily eliminated by washing the cover in your washing machine at 60 degrees Celsius. Discover how ExAller® works in our video.
WATCH THE VIDEO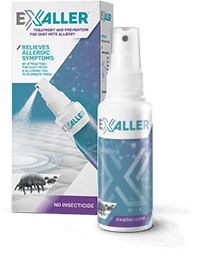 ExAller® is safe, 100% natural and recommended by paediatricians
Based on plant-derived ingredients in very small amounts, the ExAller® solution has been tested in accordance with ISO standard 10995-3 - Biological evaluation of medical devices. It is certified non-toxic, poses no risk of skin irritation and no cases of allergic reaction have been recorded.