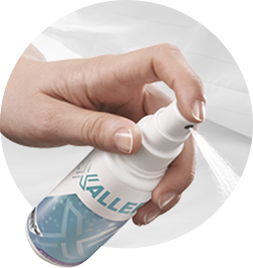 Using the ExAller® anti-dust mite solution
The ExAller® solution safely and effectively removes 99% of dust mites from mattresses, carpets, bedding, upholstery and more, but only if used consistently and correctly.
Discontinuing use could lead to reinfestation
It's a clinically proven fact: ExAller® enables the removal of 99% of dust mites from every treated area. But without consistent reapplication, a single dust mite living in your mattress or brought in from outside can rapidly reproduce, leading the mite population to explode from 1 to 1 million mites in a matter of weeks.
Without consistent use, dust mite allergy symptoms can return in around 40 days after the previous application, thanks to the rapid dust mite reproduction cycle.
2 crucial treatment phases
The elimination phase requires 3 consecutive weekly treatments. During this phase, 99% of dust mites are removed from the treated area.
To keep the population below the allergic threshold in the long term, it's important to remember the prevention phase. This phase requires 1 treatment per month.
Eliminate existing dust mites: Treat 1x weekly for 3 months
Prevent future infestations: Treat 1x per month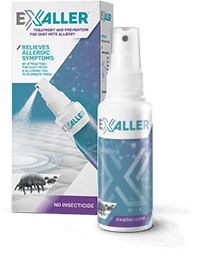 Minimise long-term costs with our 300 mL format
The prevention phase is a long-term investment required to keep your environment nearly free of dust mites and reduce or even eliminate allergy symptoms. Our 300 mL bottle of ExAller® anti-dust mite solution costs only 3.12 EUR (3.75 CHF) per month per person, or 0.10 EUR (0.12 CHF) per day.