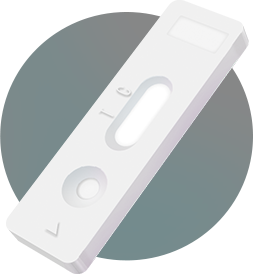 ExAller® dust mite allergy self test
The ExAller® dust mite allergy self test is a convenient alternative to clinical tests that you can easily take at home.
RESULTS IN 5 MINUTES
IN THE COMFORT OF YOUR OWN HOME
CLINICALLY PROVEN RELIABILITY
Unexplained allergy symptoms?
Do you or your family members experience stuffy/runny nose, eye irritation, skin rashes, wheezing or asthma? Is your sleep quality and daily comfort impacted by your symptoms?
You may be one of the 15-25% of people suffering from dust mite allergy.
Rely on our simple, rapid self test :
Measures dust mite allergen-specific antibody levels in blood
High specificity, sensitivity and accuracy
Indicates whether you are sensitive to dust mite allergens
The first step in a medically defined path to dust mite allergy treatment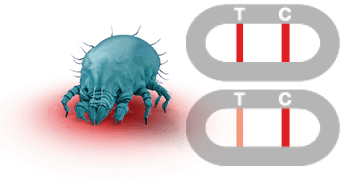 There are dust mite-specific antibodies in your blood. You may be allergic to dust mites. Consult your doctor.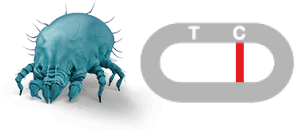 No detectable dust mite-specific antibodies in your blood. No sensitivity to dust mite allergens.
How it works ? Look at the tutorial
WATCH THE VIDEO
Sample, test and get results in 5 minutes at home
The ExAller® dust mite allergy self test detects the presence of specific antibodies in the blood that are produced by the immune system in sensitive people after contact with dust mite faeces or body parts.
Read and follow the instructions carefully to ensure a valid test result. The kit only measures dust mite allergy; see your doctor if you continue to suffer allergy symptoms after a negative result. For details about the scientific principles and proper use of the ExAller® dust mite allergy testing kit, download the product leaflet. The kit has been clinically tested and approved for use by appropriate regulatory bodies.